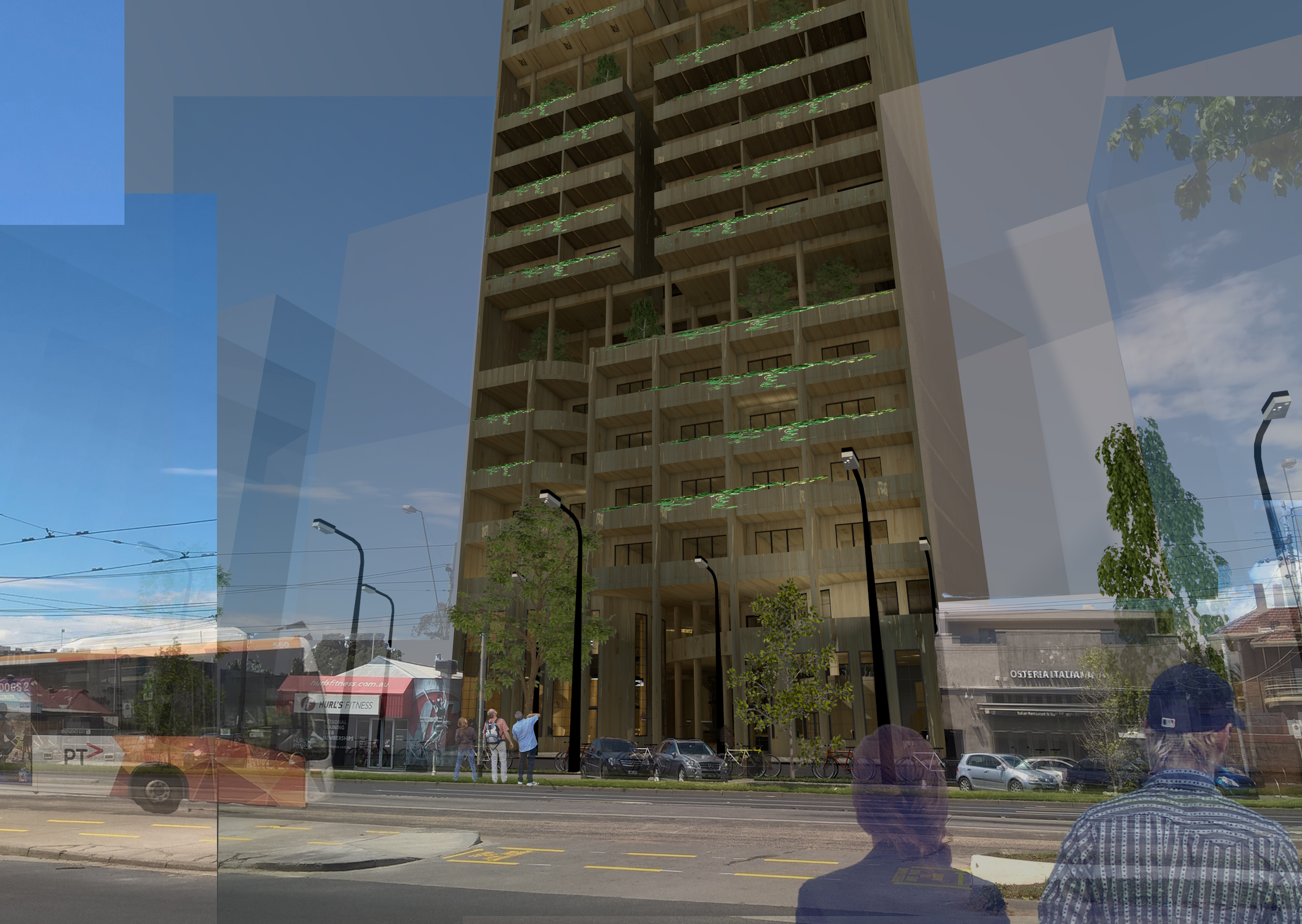 Nightingale Stacks Up
Alex Slater
Urban Sprawl is a result of maintaining the Australian Dream. After time, the cost associated with the outer suburban lifestyle is greater than that associated with a medium density model, closer to the CBD.
A person living closer to town can expect to live a better, more comfortable lifestyle; environmentally, economically, physically and mentally.
Humans, What are we doing?
For a number of years, the economy, the environment and the human psyche have been majorly impacted detrimentally through the increase of superficial dreams and desires. The Australian Dream is one of the most expensive dreams available on the International Market today and it really has no place in the future of urban housing in its current state.
It is a common scenario that marketing says one thing and the reality is another, from assets and technology to food and employment. We cannot actually be certain about major aspects of our lives without rigorous research and self-understanding. We all have a choice and the best choice we can make is one that is informed and respected.
Throughout the semester, research has been undertaken to study the costs of particular lifestyles. The major contributor to costs is personal transportation. Nightingale promotes an effective use of transport: this includes the use of car share programmes and a prioritisation of the bicycle. The Nightingale model has the potential to reduce the cost of purchasing an apartment to 75% of retail through the effective use of the shared economy (please see notes on Nightingale Levers) and an understanding of associated retail costs.
With the purchase of a Nightingale Apartment in a gentrified locality (in Melbourne, this is between the distance of 1km and 10km from the CBD), for about $25,000 more than buying a detached dwelling in an outer suburb, you choose a specific lifestyle. During the study, the associated costs of a well-designed, energy efficient apartment and the detached dwelling in an outer suburb have been called 'lifestyle value'. After a 25 year mortgage, the calculation of value for these two property typologies had a difference of $1,000,000, or an equivalent of 17 years of retirement expenses (including a CPI increase of 3.61%), in favour of a Nightingale model dwelling* (even after applying the Nightingale Restrictive Covenant beyond the 20 year agreement).
Where will you be in 25 years?
With the increase in the number of people in the outer suburbs of Melbourne, there is also an impact on the effects of personal transportation on the environment. As a society, we have been known to live in a fast paced world, driven by the need to produce more and make more money to feed the consumer appeal and mindset. Most people drive to work and this is the reason for added costs to living away from the workplace. Data has been graphed on Community Indicators, Victoria and these provide an excellent visual comparison. Below is an image from Community Indicators, Victoria, showing the emission of Greenhouse Gases in relation to location in Melbourne.
Will making a change on your emission be a part of your next mission?
Nightingale Apartments consciously make environmentally friendly (green) electricity available to all purchasers at around one third of the cost of coal powered electricity, based on average use and expense. We need to make many choices in our lives and the choices we make today affect and empower our future generations and their lifestyle.
Houses are getting bigger, but so are people...
A recent study into the effects of Urban Sprawl on the health of humans has been conduced by RMIT University and VicHealth, this is what can be expected the further you live from your workplace...
It seems as if we have an affinity to confined spaces. Even though we love a connection with nature, it is a common sight to watch people exercising in the indoor gym or driving a car. I personally love walking, riding and using public transport, because of the greater connection you have with people. Space and amenity is what attracts people to the Outer Suburbs, because the illusion is that an Outer Suburb is like a country town in regards to amenity and space.
Do you feel better in the country?
Can we have both the amenity we enjoy in the country and the benefit of city living? There is a future in conscious urbanism. Creating delight and positive moments in medium density localities provides for optimum lifestyle benefits and optimum efficiency in energy and monetary expenditure.
Nightingale Stacks
The Design Concept | The Urban Close
Developers and Real Estate Agents have been curving streets in the Outer Suburbs for a number of decades in answer to the philosophy that curved streets have a closer affinity with nature. It is rare to find a straight line in nature and the connection with nature in the urban environment has been found to improve the human mind-set and well-being.
A result of the curved nature of streets produces what we know as the Close or Cul-de-sac. The Cul-de-sac clearly defines public space as curved and private space as rectilinear. This has clearly defined the layout of Nightingale Stacks.
The road to a 'Closely Knit' Community...
Integrating the Suburban Close in an urban development encourages community and human-to-human interaction. Below is a comparison between two suburbs, Yarraville (about 4km from Melbourne's CBD) and Melton (about 25km from Melbourne's CBD). This addresses the point made about the planning of an outer suburb over the past few decades.
Arbitrary Curves are 'The Norm' in an outer suburb...
Nightingale physically Stacks Up...
Historically density has seen the combination of detached dwellings into apartment blocks to increase density of an urban area. As Melbourne's population increases, we need to find ways to further increase the density of apartment living, while retaining amenity and lifestyle quality in the urban environment. Communities in apartment block are most effective when there are less than fifty apartments in an apartment block. By providing amenity on the roof and in the central communal area, Nightingale Stacks provides an option to maximise yield on a block of land.
205-211 Queens Parade | Fitzroy North
The Site
Fitzroy North is conveniently located 4km North of Melbourne's CBD. The site, 205-211 Queens Parade specifically, is close to local parks, commercial zones and public transport. The existing building is 'The Skinny Elephant Bar and Café'. There are three proposed developments of 10, 11 and 17 storeys in height to the North of the block and Nightingale Stacks responds to the future height of the higher density local area, at a height of 18 storeys and a rooftop.
Stacking the Apartments on the Site
In Fitzroy North, the demographic breakup looks something like the following graph, with a mixture of single person households (30%), Families with Children (28% | 23% couples, 5% single parent), Couples without Children (20%), Group Households (15%) Other Households (7%).
Section through Nightingale Stacks
The centrally located atrium services each apartment via the lowest floor of each stack. Each stack has amenity on the roof and into the central atrium. Commercial spaces are on the lower floors and service both the apartment occupants and the public.
Apartments and Feasibility
There are a total of 137 apartments at a cost of $7,653/m². The 'Nightingale Levers triggered in this project are 4 of 5. Capped Profit (15%, not 20% as per usual apartment developments), Building what people want, Contribution of Purchaser Equity and a changed Equity to Debt Ratio from 2/3 to 4/5 bank borrowings. The average price/m² in Fitzroy North is $9,939 (June 2016) *please see note on the Five Levers of Nightingale.
Number and Ratio of Apartments
Here's a note on the Five Levers of Nightingale...
When developing a block you need roughly 1/3 equity to commence. In regards to Nightingale, the equity is sourced from investors who invest with a return rate of 15% p.a. (up to three years), effectively a 45% interest on the original principal. When a developer asks for 20% p.a. they effectively make 60% profit on costs, as they only need to invest their capital into 1/3 of the project.
A Financial Lever brings the cost of the apartment down and for the purposes of simple explanation, activating all five levers reduces the cost of an apartment to about 75% of usual retail. The cost breakdown is shown in the graph below, showing the pattern which was observed during the feasibility studies conducted throughout the semester.
A description of each of the levers follows:
Capped Profit | Developers usually calculate based on 20% profits, Nightingale caps profits at 15%
Land Transfer | Owner retains land; no stamp duty, holding costs or Interest on Land
Build What People Want | History proves that people do not really want a Marketing Team, Display Suite, Real Estate Agents, Second Bathrooms or Basement Carparks
Purchaser Equity | Purchasers contribute Equity, deleting the 15% required to pay back the same amount in shares
Debt To Equity Ratio | A Bank usually has to contribute 2/3 of the cost upfront, if a bank can contribute 4/5 to the project, through the knowledge that all apartments are sold, we can reduce the 15% investor Interest to 6% (or bank Interest at the time).
Community Spaces
Improving the lives of Humans
A close connection to the immediate and local communities is important and improves the way people think about their lives and the interactions they have with the humans in their lives. In Nightingale Stacks we have three community spaces which encourage interaction from the local and wider public; they are 'The Skinny Elephant' Bar and Café, The Inspire9 Co-Office and The Good Cycles Shopfront and Workshop.
Skinny Elephant Bar and Café
With the entry facing Queens Parade and looking South towards the commercial zone of Clifton Hill, the intention of the Skinny Elephant Bar and Café is to draw the community into the crafted spaces of Nightingale Stacks. With a mezzanine level, spiral CLT staircase and suspended planter box, there are many crafted moments in the café in which to delight.
Inspire9 Co-Office
Inspire9 is the fist community-led social enterprise to start co-working spaces for start-ups, freelancers and creative entrepreneurs in Melbourne, Australia. The organisation has a space in Richmond and Footscray and Fitzroy North would also be a suitable place to create a co-working space for people to use.
The secondary function of this particular Inspire9 Co-Office is the ability for it to become an extension of the apartment and provide a 'home office' for residents of Nightingale Stacks. The area boasts an atrium to the apartment block above (Stack 2) and also a separated meeting room, with a mezzanine for guests and another mezzanine for workers.
The Inspire9 Co-Office creates a place where people can enjoy work. It is strange, but humans living in an Outer Suburb, often travel 20km+ to get work work each day in a confined bubble (the car), where the office lacks natural light, has standardised desks and is quite simply put, uninspiring. The alternative is to walk down the stairs, through green spaces, meeting people and entering the naturally lit office with access to plants and greenspaces, mezzanines with a creative and warm atmosphere.
Which Office would you prefer?
Good Cycles Shopfront and Workshop
Good Cycles is a social enterprise which trains unemployed humans to give them skills to enter the workforce. Currently located in Docklands, there is an opportunity to expand and create a second workshop North of the city in Fitzroy North. With Co-Office facilities and the creation of a Transport Hub in Nightingale Stacks, the Good Cycles shopfront has a place in this project where commuters and residents can make good use of the excellent service and advice from genuine humans who live and work with bikes everyday.
With external access via stairs and a bike wheeling ramp, which doubles as a fire escape for the apartments above, there is an indoor bicycle storage area, along with shower facilities. In the Shopfront, there is a spiral staircase leading to a mezzanine, where proposed bike maintenance courses could be held. Underneath the storage is the workshop and more bathroom facilities for riders and shoppers. Connecting transport methods creates wonderful opportunities to encourage people to use and recommend public transport.
As a result of living away from work, many people tend to park their cars in concrete, stacked carparks, full of fumes, cars and stress. Alternatively, you could commuter to work by bike and enter a lively and livable space with fresh air, community and fun!
Which would you prefer?
Nightingale really does stack up...
Urban sprawl is expensive in many ways, we see people without money, health or social stability, simply because they need to keep working to pay the bills and move through life. Australian's still appreciate the detached dwelling and find a priority in having their own space.
The main concerns for the millennials as a collective differ from those of previous generations. There will be a change in the way we think about housing and the way we live our lives. A millennial is generally more concerned about social welfare, the shared economy and indeed, a smarter way of living.
Nightingale really does stack up economically with the demand for affordable housing, there is no better way to progress in Australia. The concept Nightingale Stacks challenges the way we think about a higher density model. Varying apartment types allow for different demographics, something which should be considered in all planning options in the makeup of a higher density city.
The real benefit of this higher density shared model of living is the quality of the life you lead. With a larger number of people, it is easier to make an investment in something great to share. The amenity in a gentrified suburb cannot be equaled and socially, there is a whole community waiting for you to be a part of it.
Nightingale will make changes in our perception of Australian Urbanism and it will continue to evolve as demand evolves. There is no question that the success of the future of the demands of Australian housing lies in the methodologies of the Nightingale model.
Contact Alex
I would be most grateful and appreciative of any responses you have to this project. The semester has been a life changing journey and certainly there is a future in thinking beyond the local system. My particular interest is the lifestyle and urban sprawl costs. To be able to make a difference with like minded humans has the potential to change the way we as a society view the way we make informed decisions about our lives and our investments. Thank you very much for taking the time to understand and digest the information above.
Best wishes, - Alex.